Acupuncture
Free phone 0800 7817307
Exeter 01392 499364
With over fifty years of combined experience between the three of us, having worked with a wide range of health and emotional issues, we can offer you one of the best Acupuncture services in the Exeter area.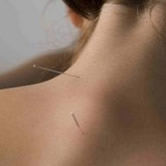 We offer a tailor made service, with each treatment specifically designed for you. Please give us a call for a chat and the chance to ask any questions you may have.
Acupuncture has been in use for over three thousand years and has developed a wide range of treatment strategies for most complaints in that time.
Conditions such as anxiety, insomnia, aches and pain, menstrual discomfort, pregnancy related issues, migraines, depression, and emotional pain can be helped. For an A to Z of conditions that Acupuncture may help please go to the British Acupuncture Council website page below.
http://www.acupuncture.org.uk/category/a-to-z-of-conditions/a-to-z-of-conditions.html
Acupuncture is an ancient healing art, which is relevant and effective for contemporary health problems. It works with the flow of energy in the body, the life force, to clear physical or emotional blocks, and to stimulate the natural healing systems of the body and the inner Spirit.
Acupuncturists see ill-health as an imbalance of Qi or energy. The more out of balance the energy, the greater the disease or the more insistent the symptoms become. Acupuncture works by understanding the root of these imbalances and uses fine needles to manipulate the energy (Qi) in the energetic pathways of the body (known as meridians) ensuring a harmonious flow, thus preventing imbalance and disease.
The balance Qi can be disturbed by a number of factors, including emotional states such as anxiety, stress, grief, anger or fear, poor nutrition, weather conditions, hereditary factors, infections, and emotional and physical trauma.
Free phone 0800 7817307
Exeter 01392 499364