Sarah Collier   TIDHA, MIFPA, ITHMA.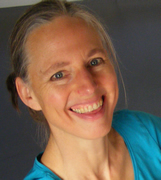 Remedial Massage. Aromatherapy, Massage in Pregnancy
Telephone 07946 836073
Inspired by a wonderful aromatherapy treatment when I was pregnant with my first child, I went on to train as an aromatherapist myself. In 2004 I graduated from the Tisserand Institute, known for its exacting standards in aromatherapy training, products and for the research of its founder –Robert Tisserand- into the science of the essential oils, their remarkable therapeutic properties, application and safety.
In London where I lived previously, I combined working at the Royal Free Hospital as a massage therapist with the Complementary Therapies Team; working at a Family Health Centre with Charterhouse-in-Southwark providing Aromatherapy treatments to people on low incomes and working with private clients. I remain deeply impressed by the significant part therapeutic touch can play in helping people cope with illness or stress especially when combined with essential oils.
Since moving to Exeter in 2005 I have been developing my practice and areas of special interest including remedial massage and aromatherapy and massage in pregnancy. (I have an APNT accredited diploma in remedial massage and ITHMA advanced certificate in aromatherapy massage in pregnancy). I now find that combining remedial massage techniques, as appropriate, with an aromatherapy treatment can be remarkably effective. Muscular aches and pains can be targeted more specifically and still benefit from the distinct therapeutic effects of the essential oils.
I offer treatments to women throughout pregnancy when the combination of particular massage strokes and sequences with essential oils, carefully selected and used in safe dosage, can be fantastically supportive. The treatments help to relieve the physical and emotional stresses of pregnancy, provide some time out and draw out the positive and life affirming aspects of both pregnancy and the therapy.
My enduring aim as a practitioner is to give treatments that are satisfying and nourishing to body and soul. I believe that Aromatherapy can provide a person with an opportunity to reconnect with his or her own capacity to regain health. I am passionate about the importance of massage that flows, imparts the right pressures and that feels complete. The essential oils blended with the client must 'hit the spot'. I am an advocate of regular treatments (over a period of time to suit the individual's needs) because this can best bring about beneficial changes.
Sarah is an experienced professional Massage Therapist and Aromatherapist. She specialises in treating soft tissue pain and combines this with the skilled use of essential oils.
In practice since 2004, Sarah provides treatments that include advanced clinical massage, aromatherapy and massage in pregnancy. What really enthuses Sarah is the potential for sensitive 'listening' touch combined with excellent hands-on technique to relieve pain and restore freedom of movement. Add the vibrancy of essential oils to this and you have a profoundly effective approach to massage- great for body and mind!
This enthusiasm for effectively treating her clients led Sarah to training with the Jing Institute of Advanced Massage Training in Brighton during 2013/14. Now Sarah brings the benefits of this professional training to her clients.
Sarah is committed to Training and Continuing Professional Development and has completed a number of substantive training courses. Qualifications of note include:
Jing certificate in Advanced Clinical Massage Therapy 2014, Jing Institute of Advanced Massage Training.

Diploma in Seated Acupressure Massage 2011, Association of Physical and Natural Therapists (APNT)

Accredited diploma in Remedial Massage 2006, APNT

Advanced Certificate in Aromatherapy and Massage in pregnancy 2005, Institute of Traditional Herbal Medicine and Aromatherapy

Tisserand Institute Diploma in Holistic Aromatherapy, 2004.
On-site massage
Sarah provides on-site massage for companies and organisations and wellbeing training. To find out more about this: www.sarahcolliermassagetherapy.com
Sarah also works at the Royal Devon and Exeter Foundation NHS Trust as a Generic Therapist (part-time), in the physiotherapy team within Trauma and Orthopaedics.